Dr Fiona Hill's attendance at the Chancellor's Circle Dinner marked a significant moment as she begins her tenure as the incoming Chancellor, poised to guide and contribute to the continued success of Durham.
On 25 May, Dr Fiona Hill participated in her inaugural official engagement as Chancellor at the Chancellor's Circle Members' Dinner, in advance of her formal installation in June. The Chancellor's Circle comprises the University's most engaged benefactors, all of whom have made transformative gifts to Durham.
The annual Members' Dinner was hosted at the Drapers' Hall in London. It was a wonderful opportunity to welcome Dr Hill to her first engagement as patron of this group and to celebrate the impact of the members' generosity and commitment.
Welcome Fiona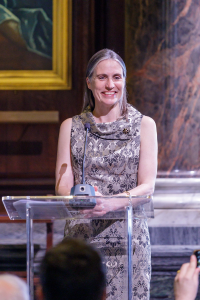 The Vice-Chancellor and Warden, Professor Karen O'Brien, warmly welcomed Dr Hill. In her message to members, she said: "I look forward to working with Fiona and with our Chancellor's Circle Members to ensure that Durham University retains its place amongst the most respected educational and research institutions worldwide."
Sir Thomas Allen, who founded the Circle during his tenure as Chancellor, also attended the dinner. He extended a heartfelt welcome to Dr Hill on her new role.
During her address Dr Hill conveyed her appreciation to members She said: "This evening celebrates the difference you as Chancellor's Circle Members make, united in a commitment to the University's advancement. I'm honoured to be a patron of this group and I'm pleased to be meeting so many of you tonight."
Dr Hill welcomed 10 new members to the Chancellor's Circle. This important group of supporters offers support across the University to projects and programmes including research, scholarships, student experience, heritage, and the Sir Harry Evans Memorial Fund.
Highlighting impact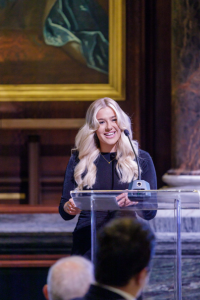 In recognition of the impact of members' generosity, we were pleased to welcome alumna Beth Henderson (English Literature, Josephine Butler College, 2020) to the dinner. Beth was awarded the Robert Young Scholarship during her time at Durham. She spoke about the difference that her scholarship made to her. She said,: "The Robert Young Scholarship changed the entire narrative for me. It empowered me to apply for, and attend Durham, where I achieved a First Class Honours in English Literature and enabled me to embrace university life, both socially and academically."
Beth is currently working as the Private Secretary to Tom Pursglove MP, Minister of State for Disabled People, Health and Work. Beth was delighted to have the opportunity to thank members for their support of Durham. She said: "I am honoured to represent the countless individuals who have benefited from your generosity. Your support has not only transformed my educational experience but has also empowered me to make a positive impact on the lives of others."
Showcasing musical talent
The evening showcased the musical talent of our students and alumni. As guests arrived, they were welcomed by the beautiful sounds of the Dunelm Quartet, a string quartet made up of recent graduates from the music department. They included first violinist Amy Ying (St. John's College, 2020), second violinist Megan Hathaway (Trevelyan College, 2020), violist Laura Cooper (St. Cuthbert's Society, 2021) and cellist Rob King, currently finishing his PhD in composition at Durham.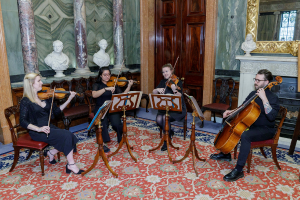 The evening's grand finale was a performance from Durham's Foot Notes A Capella, a Palatinate award-winning mixed vocal ensemble. Founded in 2018, Foot Notes has had a rapid rise to success, staging highly acclaimed termly concerts in stunning venues around Durham and taking a show to the Edinburgh Fringe Festival in 2022. The group offered an incredible performance that was both moving and uplifting.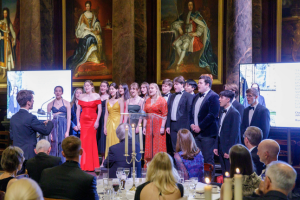 With thanks to our Chancellor's Circle Members, to whom we are indebted for their incredible support.
Find out more