Brass Band launches national composition competition
5 August 2022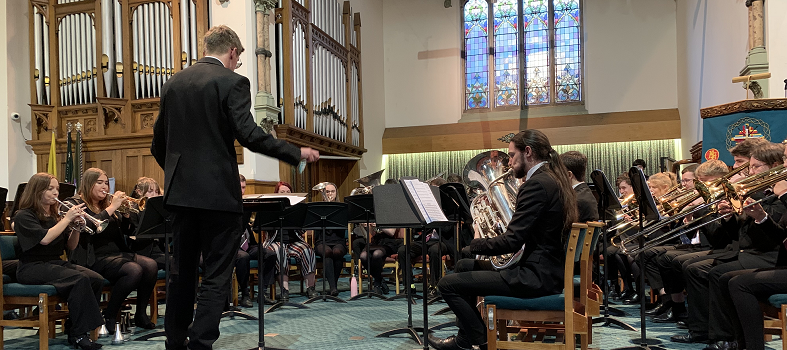 Durham University Brass Band (dubb) is launching its annual Composition Competition, offering student musicians and recent graduates from all over the UK the chance to have their work published.
The Durham and Open Composition Competition is open to all UK university students and graduates of up to one year and is looking for original pieces of music themed around "celebration" or a concert march.
The competition has two classes, one exclusively for Durham students and recent alumni and one Open class for all current UK students and anyone who has graduated within the past year.
Each class offers a prize of £100 and the opportunity for the winners to have their work published by Modrana Music Publishers (with a competitive royalty's agreement). The winning compositions will also be performed by Durham University Brass Band in the upcoming academic year.
Independent judges
The competition is supported by Durham Music Shop and adjudicated by Steve Robson (a local composer and concert organiser to County Durham) and Lewis Wilkinson (a dubb alumni and local conductor). All entries will be judged 'blind', without knowing who wrote the music, or where it is has come from to ensure fairness.
Entries must all be original compositions, up to 6 minutes in length, arranged for standard brass band orchestration, and be playable after some rehearsal by a 3rd section band.
Student composers are invited to submit a musical score and audio in mp3 format, along with a few short notes about the composition. Competitors must also submit valid evidence of being a student or recent graduate with a Student Card, graduation certificate or some proof of student status from their university.
Getting back to banding
President of dubb, Martin Davies is encouraging students to enter; "This year has had a great many events to celebrate, the return of live music, the Queen's Platinum Jubilee and even dubb's 20th anniversary. This is a great opportunity for student composers to channel their own personal celebrations this year into the universally recognised medium of music."
Competition information
The full competition rules can be found here
Entries and queries should be sent to brass.band@durham.ac.uk
Entries close on 1 September 2022
Find out more
Enter the Composition Competition
Visit the dubb Facebook page
Find out more about Music at Durham University