Alexandra Hart - Global Volunteering Award

Name: Alexandra Hart Position: Third-year undergraduate student, Department of English Studies Winner of: Global Volunteering Award

Durham student Alexandra Hart won the Global Volunteering Award for creating the Tutor for Ukraine initiative, which offers free online English language tuition to Ukrainian children preparing to travel to the UK. The project matches Ukrainian refugees with volunteer tutors from the UK.
Alexandra is a third-year undergraduate student, studying BA (Hons) English Literature and History in our Department of English Studies. She is editor-in-chief of Durham theatre review magazine First Night and co-author of Alight, a fantasy fiction novel for older children, published in April 2022 by Cranthorpe Millner.
Establishing the Tutor for Ukraine scheme
Alexandra created Tutor for Ukraine in 2022 in response to Ukrainian refugees travelling to the UK. The scheme began after she posted on Facebook volunteering her services as a free English tutor for families preparing to travel to the UK. She expected to receive a few responses but was inundated with requests, receiving 500 messages within hours of creating the post. To meet the demand, she established Tutor for Ukraine as a Durham University Volunteering and Outreach (DUSVO) project and recruited a team of volunteers to provide group lessons.
Over 1600 Ukrainian children have signed up for tutoring so far, with over 100 Durham University students giving more than 300 hours' worth of lessons. Students need no prior knowledge of English to begin learning and the tutors do not need to speak Ukrainian. Volunteers lead a series of one-hour sessions for 10 weeks, following basic lessons plans provided to them by the scheme. Many of the students began receiving tutoring sessions online while they were still in Ukraine and continued the lessons as they began life in the UK.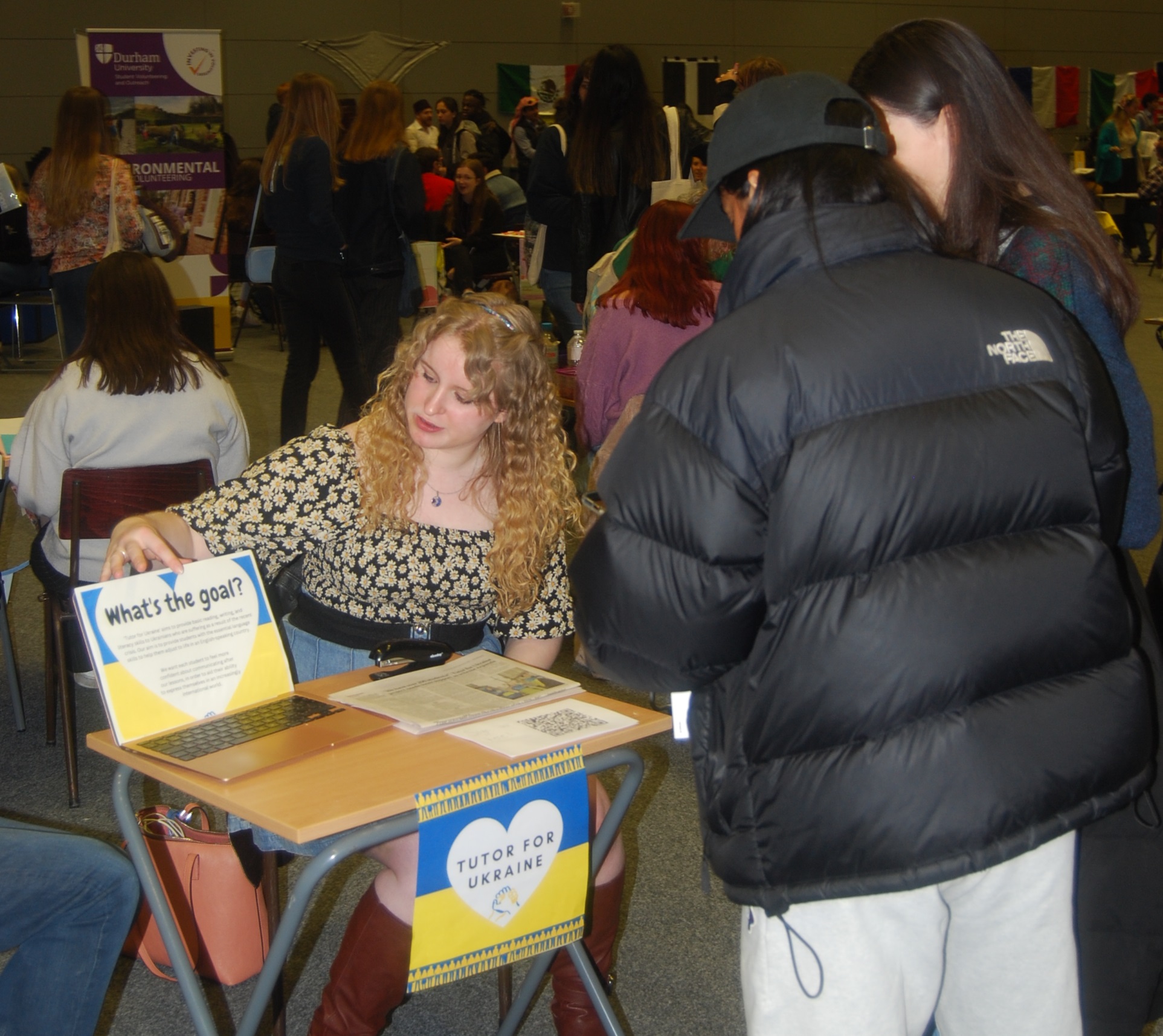 Over 100 Durham students have signed up to the scheme as volunteer tutors for Ukrainian refugees
Ukrainian families' feedback on Tutor for Ukraine
Durham University Volunteering and Outreach has been inundated with positive feedback about the scheme from Ukrainian children and their parents. Some of the feedback DUSVO has received includes:
"The level of lessons is very high. My son enjoyed them a lot!"
"The presentation of the material was interesting – I wanted to study more and more!" 
"Thanks to the lessons, my son began to feel less afraid of speaking English!" 
"My kids like their English lessons because they can communicate with natives and share experiences!" 
"My son is delighted. He really likes the teacher – he conveys information very clearly!" 
"My son and I really appreciate everything you are doing for Ukrainians!" 
Reaction to winning the award
"Receiving a Durham Global Award is a great honour; I am thrilled to share this award with all the tutors who have given up their time and energy to help Ukrainian refugees over the last twelve months," said Alexandra. "Moving to a new country is a daunting process, as is, to a lesser degree, leading lessons for students with whom you do not share a language.
"Thanks to both our dedicated tutors and courageous students, I have been thrilled to watch Tutor for Ukraine grow as a partnership programme over the last year. I hope it continues to foster communication and confidence in the years ahead."
Find out more
Learn more about

Tutor for Ukraine

Find out more about our

Department of English Studies

, which is ranked 38

th

in the World in the QS Rankings 2023 by Subject with 90% of our research judged as "world-leading" or "internationally excellent" in REF 2021